How to Get Moving When You Really Don't Want To
Yes, of course you know you should work out—it boosts energy, makes you happier and helps you lose weight. You also know your to-do list is endless, in the morning you have no time, at night you're too tired, and sometimes in between you just don't feel like it. Still, you know you need exercise. Here are some tips on how to get moving when you really don't feel like leaving the couch:
Set small goals.
Thirty minutes of exercise on most days is the recommendation, but if that's a chunk of time you don't have in your schedule, feel free to break it up.

Fifteen minutes, twice a day–or even 10 minutes in the morning, 10 in the afternoon and 10 at night—is just as effective. Research conducted at the University of Wisconsin found overweight women lost similar amounts of weight whether they did 30 minutes of aerobic exercise in one shot, or divided their sessions into shorter spurts.
3 Exercises for People who Hate Exercise

Recruit a buddy.
Exercising with a partner can help keep you motivated and more accountable, and studies show you may even work out a little harder: Researchers at Michigan State University found exercising with someone you perceive as moderately more capable can as much as double your own workout time and overall performance. Ask a friend to take a yoga class with you, sign up for a local charity run together, and even form your own walking group.Do what's fun. Hate going to the gym? Don't go. The idea of taking a Zumba class gives you hives?
Tell your friend you have to pass.
You're more likely to stick to a fitness program if you're doing something you like. Try new things, too: take tennis lessons, for example, or join a softball league.
Reward yourself.
When you hit milestones—like training for your first 5K walk, or running longer than you ever have before—give yourself a treat to stay motivated, such as a new pair of running socks or a 30-minute massage.
More Great Get Fit Ideas

The Newest and "Hottest" offer in Health and Fitness.
The 7 Day Challenge Workout
Watch this great video below showing you a 7 min workout to help you loose weight
A Healthy Meal to Loose Weight
Cheesy Garlicy Spaghetti Squash Casserole (Keto, Low Carb, GAPS)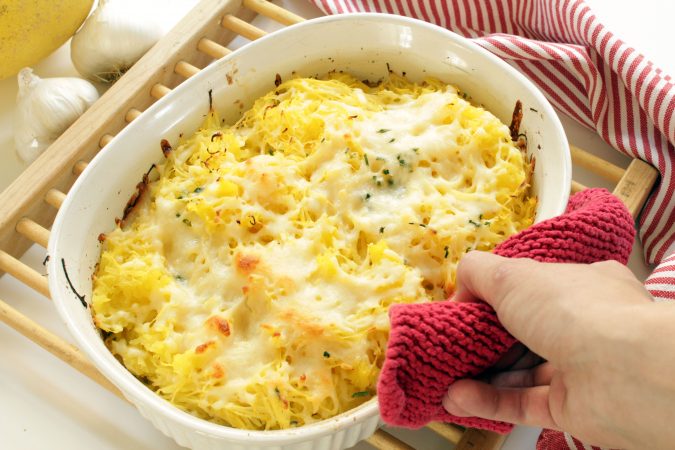 Cheesy Garlicy Spaghetti Squash Casserole (Keto, Low Carb, GAPS)
This cheesy garlicy spaghetti squash casserole is a great side dish that is bursting with flavor and sunny color. The garlic, parsley, and cheese combination goes deliciously with meatballs or any italian meal. While winter squash is higher in carbohydrates for a vegetable, it still only logs in at 4 g of carbs per serving, and can fit into most people's low-carb and keto diets.
What is the keto diet?
It's a low-carb, moderate protein, high fat diet that puts your body in fat burning mode rather than carb-burning mode. In addition to helping with weight loss, it also calms and supercharges the brain!
Fresh mozzarella is not aged, and therefore not allowed on the GAPS diet. Aged cheese is allowed, though just 'mozzarella' is called out as being not allowed on GAPS. If you'd feel more comfortable, you can choose to replace the mozzarella with white cheddar in this dish.
What is the GAPS Diet?

It's a gut-healing diet that specifically targets the gut-brain connection to help mental illness and neurological conditions.
Cheesy Spaghetti Squash Casserole
Spaghetti squash can be served as a yummy cheesy casserole
1 small spaghetti squash (4-5 lbs, yields 5 cups cooked squash)
Cooking Spray 2 cloves garlic (crushed (or more to taste))
2 tablespoons dried parsley 1 teaspoon sea salt (if stock is unsalted)
1 cup chicken or beef stock 2 cup mozzarella (shredded)
1/4 cup parmesan cheese (shredded)
Prepare your spaghetti squash al dante using the method of choice below.
Preheat oven to 375* F
Use a fork to scrape out the flesh into spaghetti strands into a medium mixing bowl. Since we're baking this casserole in the oven, it's okay if your squash strands are a little firm. Spray with cooking spray or use butter or coconut oil to grease a 2 to 3-quart casserole dish that has an oven-proof lid (alternatively, use foil to cover). Add garlic, parsley, sea salt, half the mozzarella and the parmesan cheese to the spaghetti squash in the mixing bowl. Mix well, until throughly combined.
Place the spaghetti squash mixture in the prepared casserole dish and pour stock over it. Top with remaining 1 cup mozzarella cheese. Cover casserole dish with lid, and bake on the middle rack for 30 minutes, or until heated through. Remove lid for the last 10 minutes of cooking. Allow to stand for 15 minutes before serving.
This dish can be prepared ahead of time and kept covered, in the refrigerator, for up to 3 days. If cooking from chilled, increase cooking time to 45 minutes.
To cook spaghetti squash: Cut spaghetti squash in half crosswise (be careful!) using a large knife. Use a large spoon to scrape the strings and seeds, reserving if desired for roasted squash seeds. Squash is done when it slightly gives and can be pierced with a fork, but is not mushy. Mushy squash still tastes good, but it won't have the defined spaghetti strands that are so unique in this casserole.
It will continue to cook a bit as it cools.
Instant Pot:
Fill pot with 2 cups of water (use the lines on the side of your pot), place a trivet or steamer basket in, and place squash cut-side down on the trivet or steamer basket in the Instant Pot. Depending on the shape of your squash and size of your Instant Pot, you may need to do two batches to get the whole squash cooked – no worries, this is a very fast method and you'll have them both done in no time!
If you can fit them both in and still close the lid, you can do both halves at once. Close the lid, and set the vent to seal. Set the Instant Pot to Manual – 8 minutes* and allow to come to pressure. Naturally let the pressure come down for 5 minutes after it is done cooking, and then use quick release to release the rest of the pressure. Set squash aside to cool until comfortable to touch (15 minutes) before proceeding with the recipe. If necessary, repeat with the other squash half.
*Instant Pots can take some getting used to. If your spaghetti squash is too soft after the 8 minutes on pressure and 5 minutes natural pressure release, yours might run a little hot. In contrast, if it is still firm, even after the 15 minutes of cooling, it might run a bit low and you'll want to add a minute or two to the cooking time for most recipes.
Finally, if your squash is barely cooked at all, you probably need to replace the silicone ring around the lid. I replace mine about once a month when I'm using the Instant Pot on a daily basis.
This modern gadget can save oodles of time in the kitchen, but it does take some patience to get it to work how we want it to.
Slow cooker
First, check to make sure your squash fits in the slow cooker! You can cut it into large 'rings' instead of just in half if necessary to make it fit. By keeping it cut crosswise, we get longer squash 'noodles' so try to avoid cutting it lengthwise.
Pour 1 cup of water into the bottom of a slow cooker. Place squash cut-side down in the slow cooker and cook on low for 4-5 hours or high for 2 hours. Open lid and turn off slow cooker and allow squash to cool until comfortable to touch (15 minutes) before proceeding with the recipe. Oven Roasted: Preheat oven to 400* F.
Optionally, brush squash ends (cut side) with olive oil, melted butter, or coconut oil. Place cut-side down in a casserole dish or baking sheet *with sides* to contain juices. Add 1 cup of water. Place squash in the oven (it's okay if it hasn't completely preheated yet) and bake for 45 minutes. Remove from the oven and allow squash to cool until comfortable to touch (15 minutes) before proceeding with the recipe.
*If you're in a time crunch you can put the whole squash in the slow cooker or oven, with the 1 cup of water. in the oven and slow cooker directions The soft warm squash will be slightly more difficult to work with at the end (be careful- the inside is steaming-hot), but it's really not much harder to remove the pulp gently after cooking.
The post Cheesy Garlicy Spaghetti Squash Casserole (Keto, Low Carb, GAPS) appeared first on Health, Home, & Happiness.
From Source Article: leaf.nutrisystem.com