JP McHale launches disinfecting service, gives back to community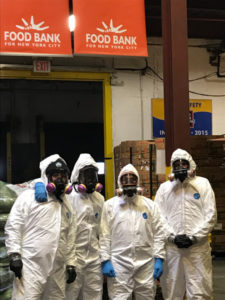 JP McHale Pest Management, an Anticimex company, has launched ViroClean Disinfecting Service, a new service designed to kill viruses on inanimate environmental surfaces such as floors, walls, structures, ventilation and other equipment.
The new service will offer clients a sanitation option during the coronavirus (COVID-19) pandemic.
This new disinfecting misting procedure can sanitize large areas in short periods of time. ViroClean materials have been approved by the Environmental Protection Agency (EPA) as effective for viral elimination. The services include bio-fogging and hard surface wipe-down for heavily contacted surfaces and high traffic areas. Various options for frequency of treatment, phased treatment and after hours availability are available.
JP McHale has served homes and businesses throughout the New York region for over 50 years.
"Most business owners and organization leaders are looking for additional ways to protect their teams and ease concerns as they plan for the future of their business and the safety of their employees," said Jim McHale, president of JP McHale. "If you have an office or any other commercial space, facility or retail/restaurant environment, we're here to help."
GIVING BACK
Due to COVID-19, restaurants have been mandated to close in many areas including Westchester County in New York.
Restaurants in the area have launched the Million Gallon Challenge in order to cook 1 million gallons of soup to distribute to those in need, according to Westfair Online.
JP McHale became involved with the program to help keep the shuttered restaurants sanitized for cooking to continue. James P. McHale Jr. told Westfair Online that his company also is contributing its services to community charities that may be in need at this time.
Read more COVID-19 coverage here: MyPMP.net/COVID-19
The post JP McHale launches disinfecting service, gives back to community appeared first on Pest Management Professional.